Feeling overwhelmed by information? Here's your best solution
Posted by Steve Jolly on Friday, December 1, 2017 at 11:32 AM
By Steve Jolly / December 1, 2017
Comment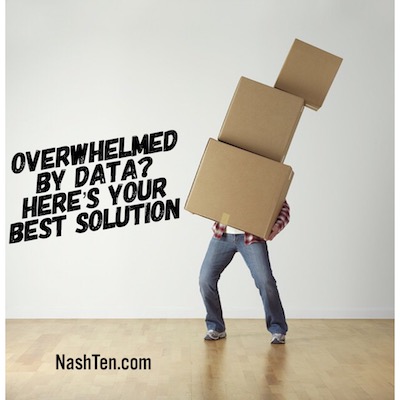 Here's the unusual thing about most tech companies, especially in the real estate sector.
The main product that they sell is data.
The most famous of them all, Facebook, sells your personal data to advertisers so they can target you with ads on their portal and across the web.
Google does the same thing.
You can add Zillow to the mix too.
They collect tons of information about the real estate market to attract people to their ads.
With the internet exploding in size every year, the amount of data available also increases.
And it's gotten to be such an overload, it's hard to tell what to believe.
For example, I just did a quick search on google for "Nashville Real Estate Market Forecast" and it turned up 594,000 websites.
Each one is full of information and not all of it agrees with each other.
That's why this quote for Albert Einstein was so true.
He said, "Information is not Knowledge."
And in this case, the amount of information (or data) is so overwhelming that it detracts from the truth.
Big business with all their resources are facing this problem too. In a recent article in Forbes magazine, Forrester Research states that as much as 73% of data collected is never used for any strategic purpose.
And while 70% of the firms surveyed admitted that they wanted to establish a data-driven culture, only 28% have been successful in achieving it.
And that's where someone like me is helpful to anyone that is buying or selling a home.
I already have a thorough understanding of the Middle Tennessee market because I practice in it every day. I also pay attention to the data collected and look for trends that are important to this area.
I also have a good idea who has the best information on the market because I know where and how they are capturing it.
In other words, I know how to boil it down and let the cream rise to the top.
So I can share with you the information that you need when you need it.
It's not something that many are doing in real estate today.
Most are just sharing what they read somewhere else without putting any critical thought and reasoning to the information.
And that leads to more frustration.
I want to eliminate as much confusion as I can and give you the answers that you need.
In order to do that, I have to find out the questions you have that are unanswered.
These could be big picture questions or some detail that you don't understand.
Either way, just hit reply and share what is on your mind.
I will answer them personally and share the info with you next week.
Don't worry. I won't share anything personal or confidential.
The Daily Deal in Nashville is a brick cottage in Old Hickory that is close to Madison/East Nashville and would make a great project or rental. The home is listed for less than $115,000.