Don't get alarmed when you see this
Posted by Steve Jolly on Thursday, September 12, 2019 at 11:38 AM
By Steve Jolly / September 12, 2019
Comment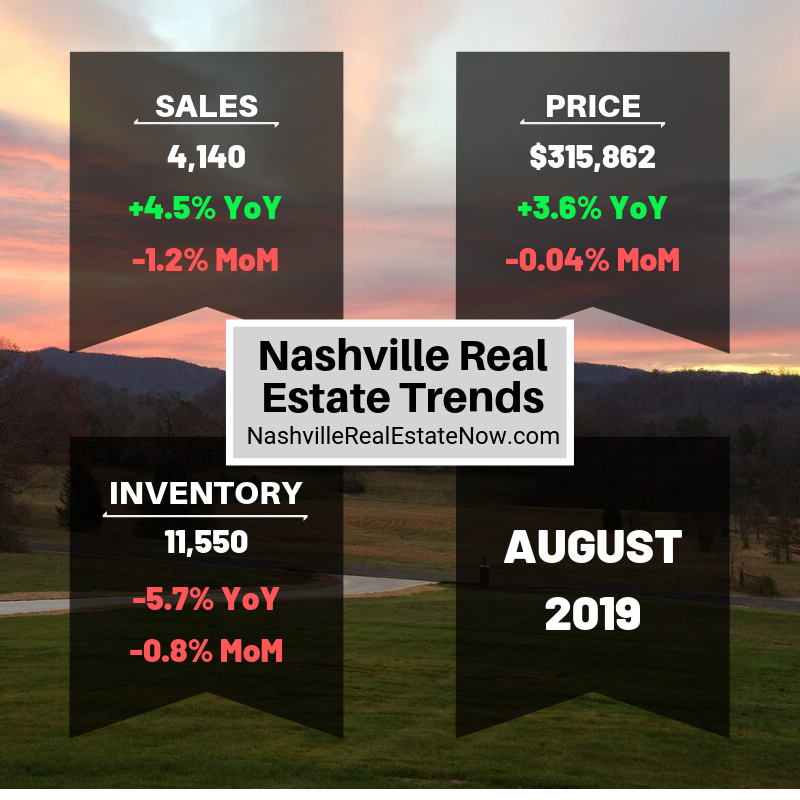 Don't get alarmed when you see all of the red on this month's real estate trends in Nashville.
Real estate is seasonal, and we just finished up the peak activity months in our area.
January is typically our slowest month and it's usually about 60% of the volume of the peak. So there is plenty of time and activity left if you want to make a move this year.
The fourth month in a row of 4,000+ sales is something to get excited about. It's been a ceiling on our market for years and we finally busted through one time in 2018. While once, doesn't make a trend, four months in a row does.
That's a good sign for the Nashville Real Estate Market regardless of what the rest of the country (and economy) is doing.
On top of that, we have 11,460 homes available to purchase across Middle Tennessee. That's a little less than 3 months of sales and is a healthy amount to have for both buyers and sellers. While it's down nearly 5% from last year, I'm happy to see it's holding steady from the previous month.
Median Prices are looking good too. We are 3.6% higher than we were last year and basically flat over the last month.
Through the end of the year, I would expect median prices and sales volume to slightly decline each month as demand wanes. Normally, I would say the same thing about inventory, but it's hard to say with all of the builder activity.
And that's one thing that concerns me.
30.7% of all residential real estate listed in and surrounding Nashville is new construction. And builders are notorious for not putting all of their inventory in the MLS.
Over half of these new homes are in the $300,000 - $500,000 range and a significant amount of the local demand is less than $300,000. This mismatch causes problems for buyers who want affordable housing.
And adds a ton of competition for homeowners in that same price range. It's hard to compete against new construction when it's priced close to the same as your home.
So, I'll continue to keep an eye on this for you.
Andrew Terrell, Greater Nashville REALTORS® president said, "We continue to see healthy growth in home sales across the region. This ongoing growth is indicative of super-low mortgage rates and the historic economic growth in Middle Tennessee."
If you are concerned about the economy, I recently published a report on How Nashville Survived the Last Three Recessions. I think you'll find the information surprising. Send me a message and I'll send you a copy.