Do you believe this home is $2,800 per square foot?
Posted by Steve Jolly on Friday, June 22, 2018 at 3:39 PM
By Steve Jolly / June 22, 2018
Comment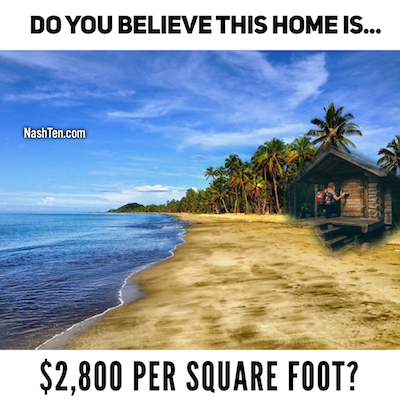 You may have recently watched a story on CBS News about 128 Middlefield Rd in Palo Alto, CA that was recently listed for $2.6 million.
While this price doesn't seem out of the ordinary for Bay Area homes, the fact that this home is tiny and is selling for more than $2,800 per square foot made it seem outrageous. The story pointed out the fact that this is more than you would pay for a luxury penthouse in Manhattan.
The story made me think about the price per square feet and how statistics can be misleading.
The number one driver of the cost of a home is the location.
If most of the value is in the land, the cost per square foot will be skewed. And on expensive lots with small homes, it will be off the charts. Another property on the same street in Palo Alto sold for $2.25 million and it was not livable.
Let me give you a local example to illustrate.
Fairvue Plantation is a large neighborhood on the lake in Gallatin, just outside of Nashville. There are a variety of styles, sizes, and amenities here. When I looked at the data from this neighborhood, I found that the price per square foot of ranged from $104 - $423 for homes sold within the last six months.
How can that be?
Homes that back to the lake or golf course have much more value in the land. And it's not only the land that can cause this statistic to vary.
If you've completely renovated your home, the price per square foot should be higher than a similar home without repairs. And a smaller home on an expensive lot will have a significantly higher price per square foot than a larger home on the same lot.
This story is not intended to invalidate the use of price per square footage as a useful measurement, but to show you that you cannot rely on one data point to see the whole picture.
And that it's best used when comparing homes that are similar in size, style, location, and condition.
If you have any questions about pricing, just hit reply. I have a report that works great for homeowners or buyers looking to target a neighborhood.
Otherwise…
The Daily Deal in Nashville is this cottage in Sylvan Park with a large backyard that is listed for less than $400,000.