Are Are You Afraid Of Buying At The Worst Possible Time?
Posted by Steve Jolly on Friday, July 13, 2018 at 2:21 PM
By Steve Jolly / July 13, 2018
Comment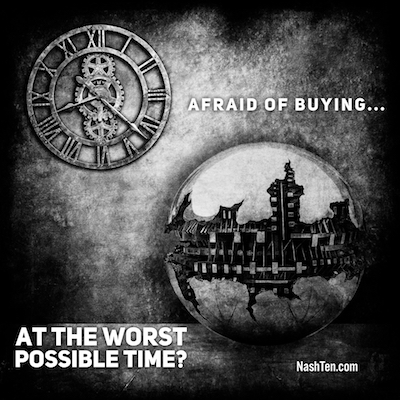 I know a lot of people feel this way and it's easy to understand. You still remember the pain of the mortgage crisis. And your frustration at the sloth-like recovery.
No one wants to relive that decade. And we know that its a matter of when, and not "if" we can expect the next recession.
Don't let it keep you on the sidelines because the next recession should not be like the last.
Here's why
The quality of loan underwriting is 1,000% better than it was in 2006. The level of documentation required today can seem overwhelming to most buyers. However, that has resulted in less risk and a low number of foreclosures for banks. Our financial system is in better position to weather the next recession.

Home Equity levels in the United States are at record highs. According to a recent report on CNBC, Americans are sitting on $5.8 trillion of untapped equity. The average homeowner now has $113,900 in equity that they can access with loans.
Instead of a large pool of sub-prime loans like we had in 2006, we now have quality loans with a low risk profile. Even less risk than before the advent of sub-prime lending.
This means that everyday Americans are better positioned for the next downturn than were 12 years ago. And, better than we've been in a very long time.
And if Nashville is in your plans, then you've got another Ace up your sleeve because this city is set up to thrive for years to come. Low taxes, responsible government, quality of life, and job growth are just some of Nashville's strengths.
I expect you may have other concerns or would like to see some of this info. If so, then just hit reply and let me know what you need.
The Daily Deal in Nashville is this 4 bedroom home in convenient West Nashville that's listed for less than $325,000.