After Three Crazy Years, Nashville Needs This
Posted by Steve Jolly on Friday, August 10, 2018 at 12:19 PM
By Steve Jolly / August 10, 2018
Comment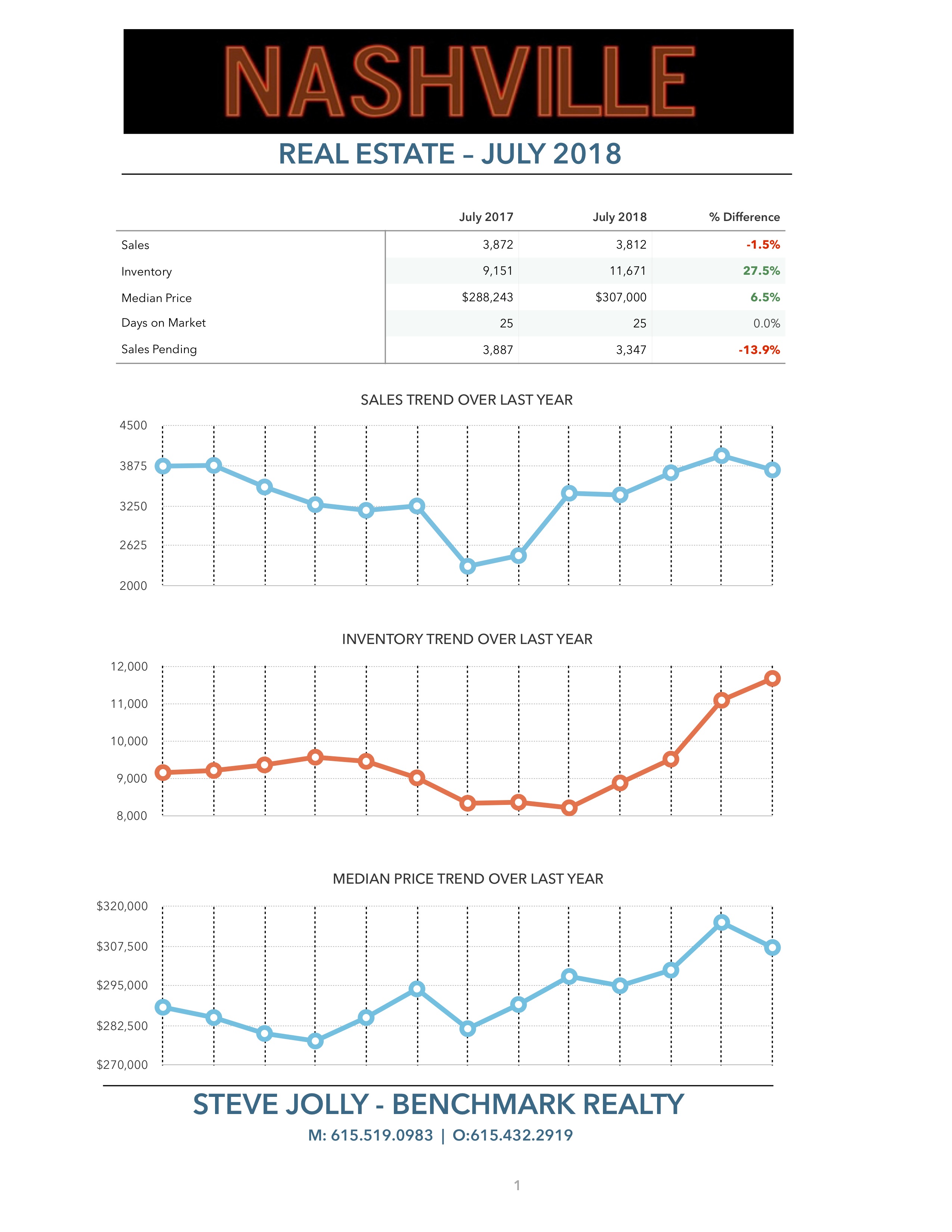 Here are the numbers for the Nashville Real Estate Market in July 2018.
Nashville Real Estate Trends - July 2018
If you read Wednesday's letter on Inventory, then you already have some idea of what July looked like in Nashville. If not, you can Click Here for that Chart.
And IMHO, it's all good!
I can't yet make the claim that the overall market has turned, however, the leading indicators are pointing that way.
After three years of a seller's market, the good people of Nashville need a break from this hectic pace. It's not healthy to stay in a polarized market for long. Thankfully, the pendulum always swings back towards the center.
While the overall market might be balanced, things could be different in your neighborhood. If you have a ton of new home sale construction to compete with, the market might seem soft.
Or, if you live in a popular area with few homes on the market, it might still be a seller's market in your locale.
Year over Year:
Sales are Down 1.5%
Inventory is Up 27.5%
Prices are Up 6.5%
When you look at the decline in Sales and Median Price over June 2018, don't be too concerned. Real Estate is also cyclical, and we see that trend every summer.
President of Greater Nashville REALTORS, Sher Power said, "The continued increase in inventory can lead to a more balanced and healthy market across Middle Tennessee, calming the steady pricing increases we've seen in the past few years, which in turn may inspire buyers on the fence to start their home buying search."
Sher is 100% right.
The increase in Inventory is due to inspired home sellers who got off the sidelines and into the game.
If you have questions about the market trends in Nashville, then hit reply today. I'll be glad to respond with an answer right away.

The Daily Deal in Nashville is this historic cottage in the Nations with a big front porch for less than $380,000.