10 things buyers do to win more multiple offers
Posted by Steve Jolly on Wednesday, March 28, 2018 at 1:26 PM
By Steve Jolly / March 28, 2018
Comment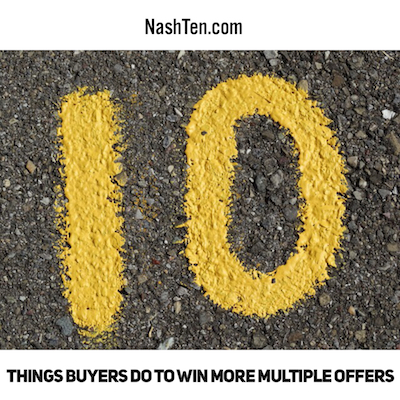 Multiple offers have become the norm for many homes sales in Greater Nashville over the last few years.
While this is discouraging to some folks, it's not the end of the world. By understanding the needs of the seller and making an appropriate offer, you can give yourself a better chance at acceptance.
So, I've compiled a list of things that I have seen buyers do to improve their chances of winning.
Now, I am not suggesting that you do any of these things, especially if they won't work for you. My goal is the give you the information and let you decide what is best for you.
Here's the list.
Offer more than list price.
Agree to pay the difference if the home does not appraise for the price offered.
Pay your own closing and title expenses.
Eliminate contingencies from the contract when possible.
Get full loan approval (not a pre-approval) and submit with your offer.
Offer more earnest money than the average buyer.
Make your earnest money non-refundable.
Be flexible with your closing and possession dates.
Agree to not ask for repairs after inspection. Either accept or reject.
Find out what the seller wants and offer it to them.
The escalation clause is another idea that many of my colleagues recommend, but I would suggest that you do NOT use it.
The escalation clause looks something like this, "The buyer agrees to pay you $1,000 more than the highest offer submitted up to a maximum of $400,000."
There are many issues with escalation clauses, and one of the worst is that you can never confirm the highest offer. The seller does not have the right to show you an entire offer from another person. It's confidential, though many try and do.
If you are worried about multiple offers, I wouldn't let that stop you from purchasing your next home.
We have other strategies throughout the buying process that will also improve your chances of success.
Hit reply and I'll share them with you.

The Daily Deal in Nashville is this stately home in Hendersonville with an open floor plan for less than $450,000.