The next tech breakthrough is already in your pocket
Posted by Steve Jolly on Friday, November 17, 2017 at 1:36 PM
By Steve Jolly / November 17, 2017
Comment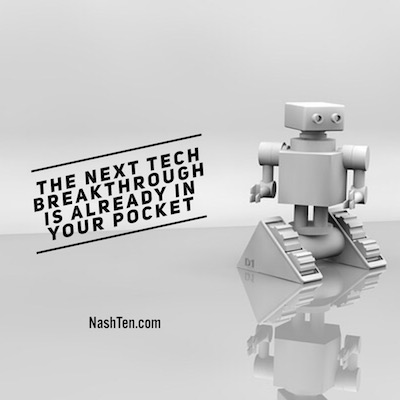 The big buzzwords in tech right now are Artificial Intelligence [AI] and Virtual Reality [VR]. Yet, we won't see any real benefits to our personal lives from these for a few years to come.
However, there is another new technology that can help you with life right now, and that is Augmented Reality [AR].
The first big AR technology was the Google Glass. Glass was a set of glasses that showed you a display of information on the lens of the glass. So you could see the world and information at the same time. Like the Heads Up Display in a fighter jet.
Because Glass had a built-in, outward facing camera it was considered creepy and never fully accepted by the public.
Pokemon Go is probably the most famous use of AR technology. It was released in 2016. Since it is a game, most people do not benefit from its use.
However, the latest adaptation of AR could be Amazon's next game changer.
One of the biggest problems with shopping online is that you don't get to see and hold the product before the purchase.
This makes people hesitant to buy certain products online. Like art or decor for your home.
Amazon is now using AR and your phone to show you what something would look like in your home before ordering.
It lets you see how it fits in the space and if it coordinates with the rest of your home.
Sounds amazing right?
Check out the video below:
It won't be long before you can take pictures of your current home and see how your furniture would look and fit in any other property.
Or see the prices and details of homes as you walk through a neighborhood.
The opportunities for this technology are endless.
And it made me think.
What two worlds would you like to combine into one field of view?
The images that you combine can be both visual and information.
Hit reply and let me know how this technology can make life easier for you.
The Daily Deal in Nashville is this stone Tudor in Inglewood [East Nashville] that is updated and listed for less than $350,000.